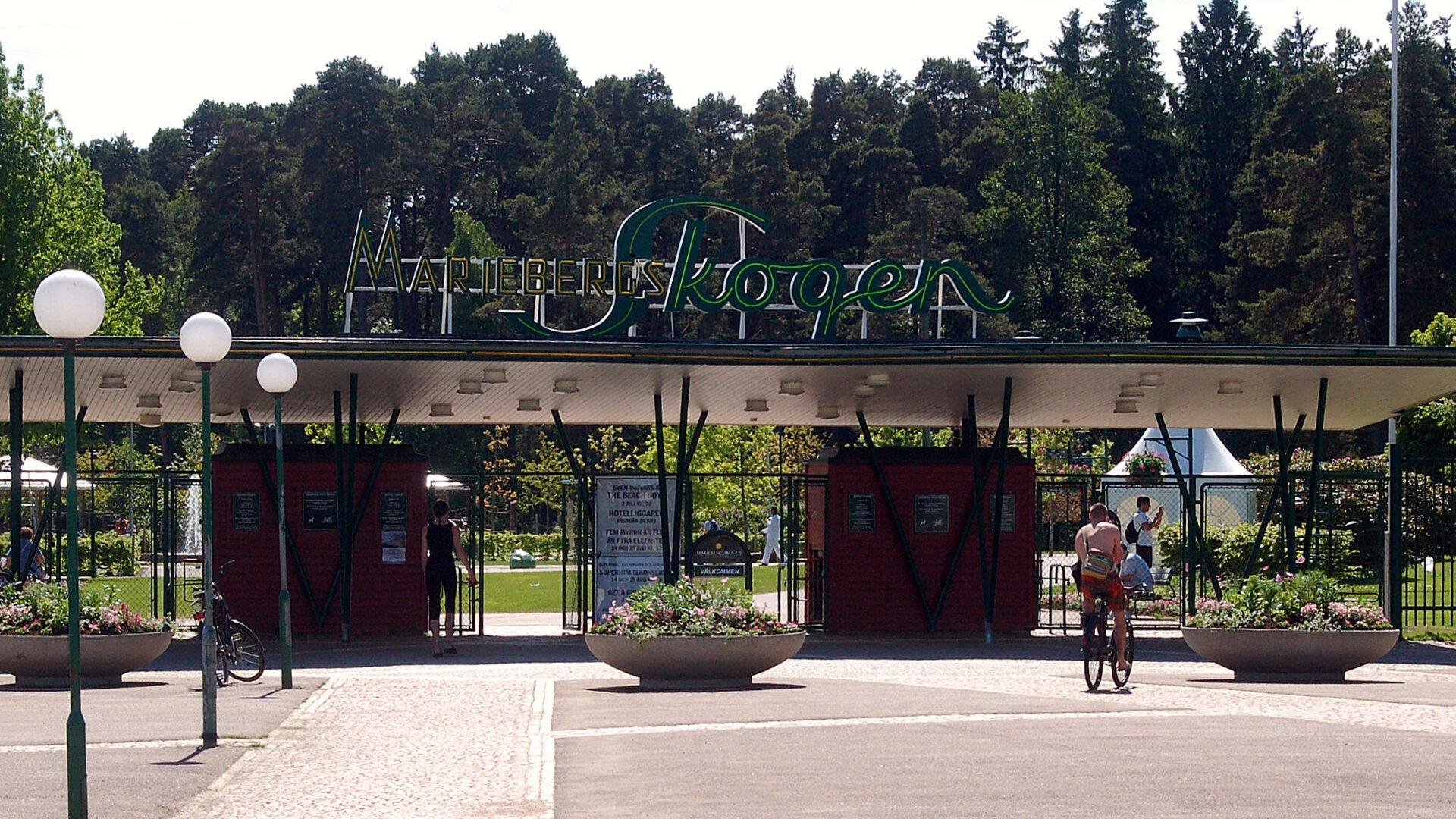 MARIEBERGSSKOGEN IN KARLSTAD
There are plenty of nearby places to explore for visitors to Bomstadbaden. One of the most popular destinations is Mariebergsskogen – a city park in Karlstad.
Experience Mariebergsskogen – a city park in Karlstad
Here you will find a series of cultural buildings that were moved to the park in the 20th century. There is an open-air museum and theater. The Friluftsteatern is actually Sweden's oldest with 966 seats. The zoo has a range of different types of animals such as cows, goats and pigs. You can visit the animals every day – all year round.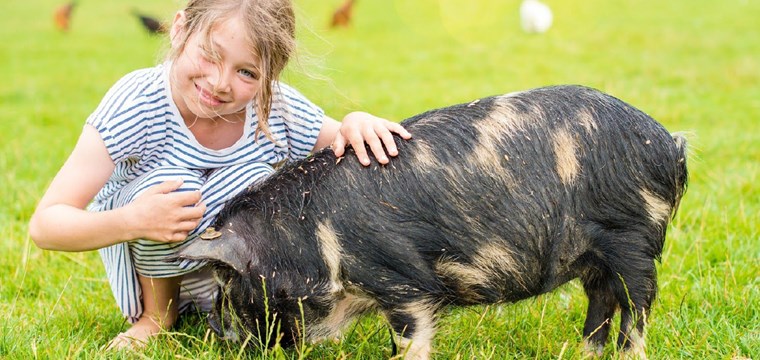 Experience the forest in different seasons
The changing of the seasons means new surroundings for Mariebergsskogen. It doesn't matter if it's blustery weather in October or the first hesitant sunny days of spring in March – there's always some kind of activity in the forest area.
Sunbathing and swimming in Mariebergsskogen during the summer
Summertime means a lot of activities to enjoy in Mariebergsskogen. For example, children can go on a troll walk in the troll forest. But don't worry, the trolls are very nice!
The swimming area at Mariebergsskogen has a south-facing sandy beach – complete with showers and toilets. When you've spent a day in the water and energy levels are running low, there's a tour train that goes around the forest every day. Discover the surrounding nature easily and comfortably. There is also a mini-golf course, which is open every day during the summer.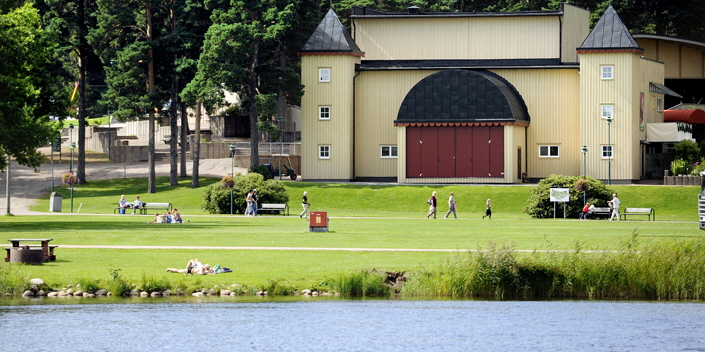 Winter in Mariebergsskogen with Christmas market
Even if the snow is falling and the temperature is below zero, there are good reasons to visit Mariebergsskogen during the winter months. Among other things, there is a Christmas market that takes place on the second weekend of Advent. It has become something of a tradition to visit the market in December. The park is filled with different types of crafts, delicacies and a variety of activities for children.
During the winter, an ice rink is glazed where you can skate in the Marieberg Forest to the beat of music. You can either rent skates on site – or bring your own.
It is not only in spring and summer that things happen in Mariebergsskogen. Autumn and spring also offer a variety of events. In addition to enjoying the beautiful nature, there are hiking tours, treasure hunts, school holiday activities and much more. Karlstad's best Valborg celebration can also be found in Mariebergsskogen – where we celebrate spring together with choir singing and a bonfire.
In Mariebergsskogen there is a so-called naturum – which is a center to a nature area where you can get information about the plants and animals that inhabit the place before you go out into nature yourself.
The Nature Room in Mariebergsskogen has various exhibitions and guided tours, theme nights and nature trails. You can also get various tips for excursions and hikes. There are over 100,000 visitors per year who are curious about the nature room – join them!
There is also an old open-air museum that has existed in Mariebergsskogen for almost 100 years. Pack a lunch and spend the day visiting the various farms, cottages and mills.
Easy to park at Mariebergsskogen
There is a large parking lot directly adjacent to the main entrance. Some of the parking spaces are reserved for people with a disability permit. Otherwise, the entire parking lot is free to the public, but be aware that there may be a lot of cars during special events in the forest.
You can also take a boat bus in summer – or a city bus that stops very close by. If it's summer and the weather is nice, you can get on your bike to get here.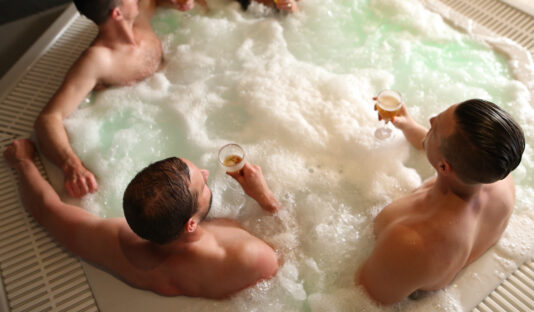 Popular
RELAX
When the winter chill penetrates the walls and ceilings, there's nothing better than soaking in a jacuzzi. Our relaxation center in Karlstad is open all seasons.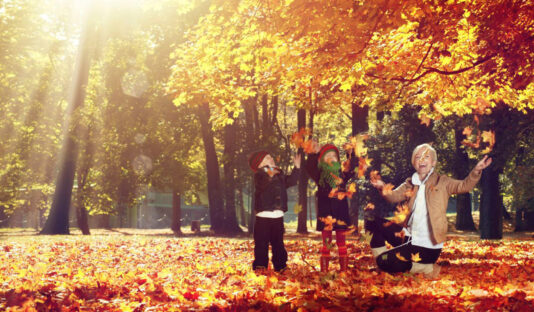 LOVELY FALL
Our site is surrounded by a beautiful pine forest, which is ideal for cozy walks in the autumn sun. You can also easily go on…
JULMYS PÅ BOMSTADBADEN
Lördagen den 2a December är ni varmt välkomna ut till oss på Bomstadbaden Camping för massa härliga julaktiviteter 🎄🎅🏽 Loppis, godisregn, lotteri, tomtebrevsverkstad, tipspromenad, träffa tomten, fika, dans kring granen, korvgrillning mm… Ja vad mer kan man önska sig en dag i December 🎅🏽
Faq
Are you open for business?
You can buy for 24 hours if there are more than 7 days left until arrival.
Is cleaning included in the price?
The cottage/campsite must be cleaned before departure. The price does not include cleaning, but you can buy our cleaning service, it costs 590:- for Linden, Eken, Aspen, Granen & Skogsgläntan 1, 790:- for Tallen and Villavagn and Skogsgläntan 2 and 990:- for Strandstugorna (excluding garbage and dishes).
When does my booking become binding?
The booking becomes binding when you receive a confirmation of your booking from us. It can be done in different ways, in writing, by email or through an online booking system.
"
This is the best campsite that we have been to, clean and nice super nice staff, very lush and nice, the campsite is wrapped in a very nice and very old pine forest.
From Google.com
Björn Pettersson
"
Nice campsite. Perfect to come to after the high season.
From Google.com
Håkan Lundh
"
Really good arrangement with cabins etc this time of year in March. Quiet during the day and evenings/nights. A bit remote so no traffic noise or such The relaxation was a big plus! Highly recommend
"
The environment, fresh and well-organized, wonderful treatment of the staff!!!