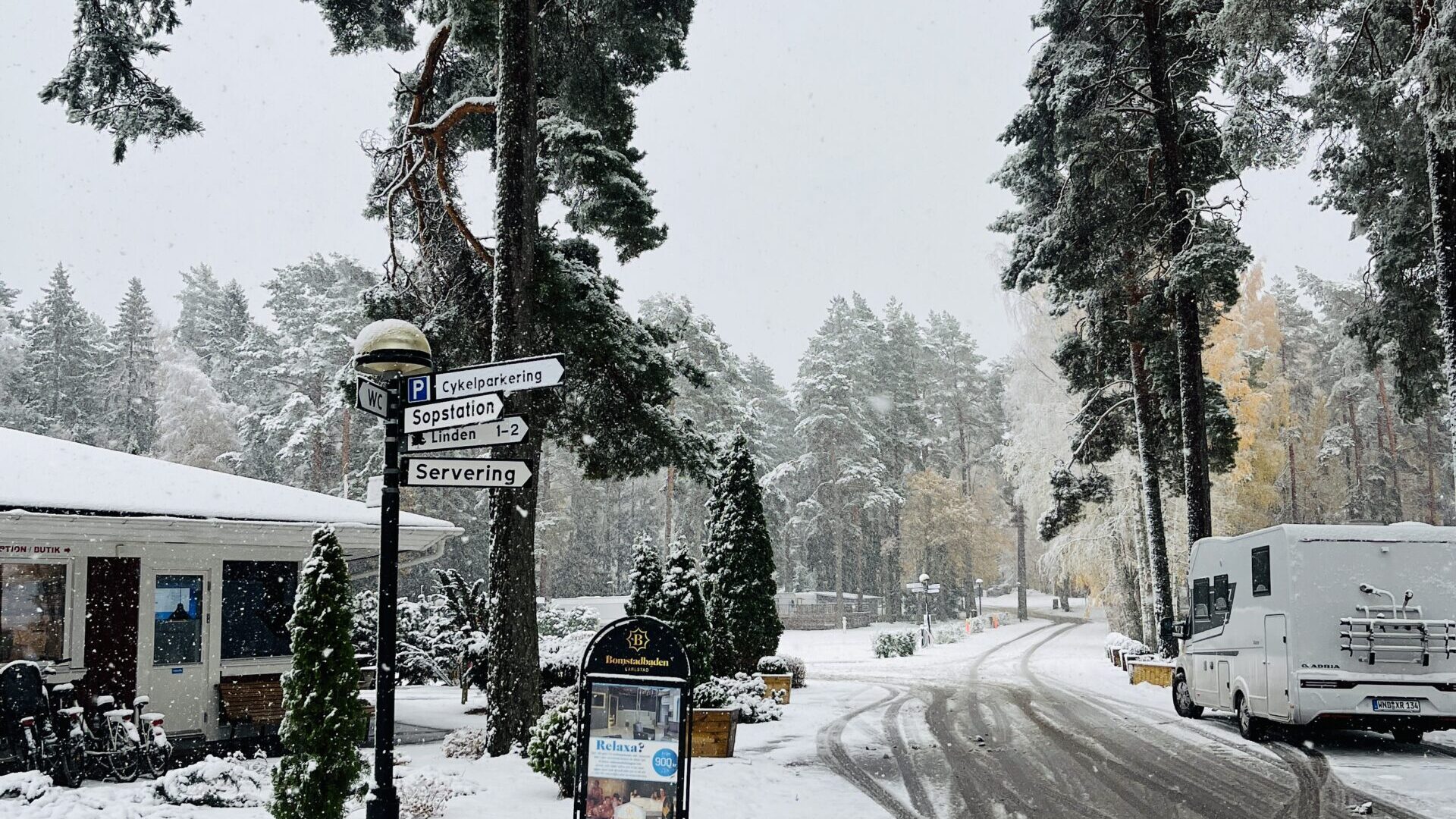 Are you interested in staying a little longer with us with your caravan or motorhome? Then we are happy to let you know that we have a customized offer for you. A campsite accommodation for those who want to live comfortably at a good price.
Our camping is always included:
Information about Bomstadbadens camping in Värmland
With us you can choose between many different camping sites, ranging from a scenic site with a view of Lake Vänern to a more sheltered site when the weather is windy and bad. A wide range of activities for families with children is always close by. Do you want to be close to the playground or a bit more secluded where you can walk your dog? The choice is yours.
Our camping is included free of charge:
Free rebooking – at least 2 weeks before arrival
Free wi-fi
Free shower
Free shower
Site-specific reservation when booking online
We can offer prices equivalent to about 65% discount (you pay only 45% of the regular price) if you book 1 month or more during spring, fall, winter & mid-season.

ATTENTION! Can only be booked by email info@bomstadbaden.se or phone +4654535068.
Winter season excluding electricity (Oct – April)
Period
Price
First 3 months
60:- /night + electricity
From the 4th month
30:- /night + electricity
El
2.7 :-/kwh
Ex. 6-month winter season:
3 months (90 days)*60:- + 3 months (90 days)*30:- = 5400:- + 2700:- = 8100:- + electricity
Period
Date
Price
Spring, autumn, winter
1/1 -6/4
10/4 – 28/4
1/10 – 3/1 (2024)
130 :-/night
Between
28/4 – 18/5
21/5 – 26/5
28/5 – 16/6
20/8 – 1/10
160 :-/night
summer
–
Peak
–
Area map
You can always contact us and tell us what you are looking for in a stay with us. A tent site on the beach, a cabin with a terrace in the evening sun, a seasonal site, a site close to friends or whatever. We help you find the right one.
You can click on the map above to download a printable PDF.
Check-in and check-out for camping
Check-in at 13:00
Check-out at 12 noon
then a new daily fee starts
Faq
During your stay at the campsite, the attached regulations apply.
Failure to comply with the regulations governing the site, or any other breach of the contract, may result in the termination of the contract with immediate effect. If the contract is terminated, the amount due is calculated on the basis of the current daily rate applied during the time you have had access to the site and a deduction for estimated damage. Any difference will be refunded.
Are you open for business?
You can buy for 24 hours if there are more than 7 days left until arrival.
Is cleaning included in the price?
The cottage/campsite must be cleaned before departure. The price does not include cleaning, but you can buy our cleaning service, it costs 590:- for Linden, Eken, Aspen, Granen & Skogsgläntan 1, 790:- for Tallen and Villavagn and Skogsgläntan 2 and 990:- for Strandstugorna (excluding garbage and dishes).
What happens if I want to change or cancel?
There are slightly different rules depending on how you have booked your accommodation. You can read more about our change and cancellation policy here.
When does my booking become binding?
The booking becomes binding when you receive a confirmation of your booking from us. It can be done in different ways, in writing, by email or through an online booking system.
"
This is the best campsite that we have been to, clean and nice super nice staff, very lush and nice, the campsite is wrapped in a very nice and very old pine forest.
From Google.com
Björn Pettersson
"
Nice campsite. Perfect to come to after the high season.
From Google.com
Håkan Lundh
"
Really good arrangement with cabins etc this time of year in March. Quiet during the day and evenings/nights. A bit remote so no traffic noise or such The relaxation was a big plus! Highly recommend
"
The environment, fresh and well-organized, wonderful treatment of the staff!!!

Staying on the Riviera for a long time
With us at Bomstadbaden there are cottages to suit all needs. Do you need a fully equipped kitchen? There is, more than one bedroom? It exists! Do you feel that you want to get away from the city for a longer period but at the same time be close to Karlstad? Book a long-term rental of a cottage with us and enjoy the Riviera near the city rush!
Long-term rentals in tranquility
Wake up to the serenity of Lake Vänern on the magical Riviera and enjoy the fresh air and beautiful nature.
Renting a cabin in Värmland is a great alternative to a hotel room where you can sit and relax in your own space with nature right outside. Bomstadbaden has a range of different types of cottages. They range from small red-washed cottages to larger 54-square-meter cottages with private balconies. You live as comfortably as in your own summer house. You can also book for a 'long stay'. Perfect for those who want to get away from the city rush for a longer period!
You can also rent a cottage in the spring, winter and mid-season.